-- Recent Photos
There are photos of Masuo on Yoshiaki Masuo's Facebook page.
-- Spring & Autumn Tours in Japan Every Year
Masuo gets back to Japan every spring and autumn in recent years and stays for about three months each time to perform quite a number of shows at various venus. He formed his own band in 2012 for the first time in more than three decades, named "Power Spot". Then a new band "MAGATAMA" in 2016, which is still active (as of autumn 2020 ). Masuo also plays in various different coonfigurations with various musicians.
Japan tour dates information is basically available on the Japanese-language Schedule&News page of this site. But if you have any question about it, please contact website administrator Kaco.
-- Masuo's second album 24 (Twenty Four), recorded in 1970 is now back in print on CD! (released May 25, 2011)

I'm Glad There Is You
Yoshiaki Masuo and Bill Mays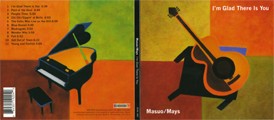 Go to the Sunshine Ave. Label's website to
hear sound clips of and/or purchase the album.

Life is Good -- Yoshiaki Masuo
featuring Larry Goldings and Lenny White
(recorded with many more musicians)
There is a review on Life is Good on the Smooth Jass site.

Go to Sunshine Ave Label's website (masuomusic.com)
to hear sound clips and/or buy Life is Good.
CD Price: $15 plus shipping cost ($3 per order per shipping address within the U.S ; $5 per disc outside of the U.S.)
Personnel: Yoshiaki Masuo (g, vo, keyb, perc), Shirley Masuo (vo, perc), Larry Goldings (org), Bill Mays (piano), Mark Soskin (keyb), Ted Nash (flutes), Marcus Printup (flh), T.M. Stevens (electric b), Yoshio "Chin" Suzuki (b), Nori Naraoka (b), Kip Reed (electric b), Lenny White (ds), Tony Cintron, Jr. (ds), Nathaniel Townsley (ds), Kazuo Yoshida (ds, perc), and others

Read "About the Album (Life is Good)" written by Y. Masuo.
"Life is Good" is currently available on the Sunshine Ave. Label website and CDBaby. It is not available on Amazon (as of Aug. 2009). You can also purchase it at any venue where Masuo is performing on that day.
-->See Masuo's albums on Amazon.com (U.S.A)

--> See Masuo's albums on HMV Japan site
(English pages and international shipping from HMV available.)